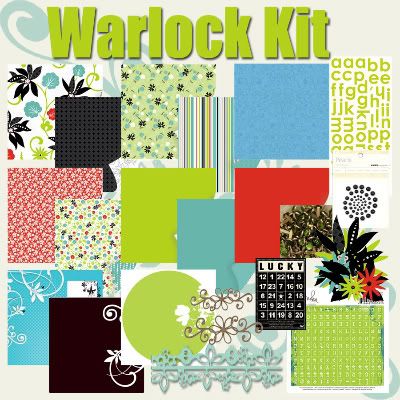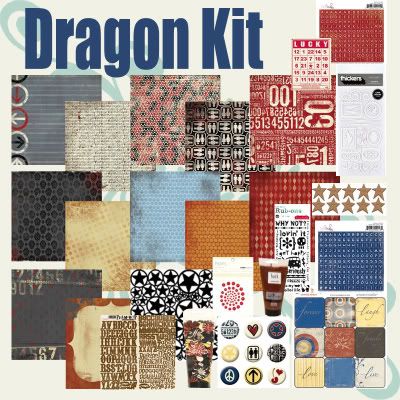 How cool are these kits??!?!?!?!  Now these are the reason I wanted to become a part of Wicked Princesses because they are the best kits I've seen around in ages and I think the girls have done a fab job putting them together.  The Dragon Kit is definitely  my favourite and I have visions of heaps of cool teenage boy layouts with it but also some funky, modern stuff too.  Now y'all know I'm not much one for pimping stuff off my blog.  I do it when required but I don't love it in other bloggers so try not to do too much myself.  I do however like to share something good when I see it and some of you may want to get your inky mitts on some kit club action for free maybe.....?  Read on!
Wicked Princesses are giving away a 3 MONTH SUBSCRIPTION to either their Warlock or Enchantress kit!! (Winner will get to choose which they prefer).

All you have to do is leave a comment on the blog - you can find it here - between NOW and Dec 15th. The winner will be drawn randomly, with the first kit being the January edition.

That's $120 worth of scrap goods, just for posting a comment !!!! Too easy!  And don't even try and tell me you've got nothing to say lol
There is also a great discount on at the moment if you love all three kits and want them NOW, NOW, NOW!!!!  Have a mosey over and check them out.
PIMP COMPLETED!
As for anything else?  Well, what can I say....you guessed it...work!  I thought things would be slowing down this time of year but I'm just getting busier and today I got another new client so hopefully that will tide me over through the Christmas/January period which usually tends to be slow as clients go on holidays etc.  I think - if I'm reeeeeeaaaaaaaly lucky - I'll get the week in between Christmas and New Year off.  I desperately want a longer holiday but it depends on when my private clients are having time off.
My Christmas tree is still sitting in its box in the hallway with bags of unopened decorations stacked on top of it :(  We have decided to rent in the area we'd like to eventually buy in, close to the kids' school and preferably within walking distance, and so we're in the process of finding a rental house.  We have an application in on one we like and it's perfect, with enough rooms for everyone and an office for me - YAY! - but we can't inspect it on the inside yet as the current tenants are still packing and moving out, maybe end of next week we can go and have a look.  I'm really hoping like hell that our application gets approved and we get the place.  It hasn't been easy so far with a couple of real estate agents suggesting we could offer more than the advertised rent on places we've looked at (yep, I know all that is supposed to be illegal now but it is still going on), and I'm also finding it incredibly difficult just to get to viewings of  places to rent.  These days viewings are geared toward the convenience of the agents; no more are the days of driving up, leaving your drivers licence and picking up the keys to have a walk through yourself.  These days agents advertise a time that suits them (and don't even think of suggesting another time that might be remotely more convenient for you- never happen!), you along with half the city turns out to have a walk through and then you basically need to get an application off the agent while you are standing in the house and have the equivalent of the first week's rent in your pocket to hand over with your application before they will even consider you!  So far we aren't doing so great on the "good tenant" scale, mainly because we have four kids, a dog and we're living in a housing commission house and therfore don't have rental references (even though bank statements can prove we've paid our rent on the dot for years).  Apparently we get sent to the back of the potential tenants list in favour of working couples, groups of students, people with fewer kids, people with no pets and people who have rental references.  I can understand the last one.  No real estate agent will ever tell you outright that it works that way but someone I know who used to manage rental houses for a real estate agent said that's pretty much exactly how it works.  I don't even know how to begin convincing property managers that all I want is a nice house with enough room for everyone that I can take care of like it was my own and make it a real home for us all.  Anyhow fingers crossed for the application we've got in now, I've given them business references from my clients etc and thank goodness they are fantastic so hopefully that will help.
I'm really looking forward to end of school as there are so many things on right now.  Groan in unison if you all understand! lol  There are concerts, afternoon teas, exhibition days, classroom displays, ceremonies and events in every direction!  I said I would make something nice for my kids' teachers this year - SO NOT GONNA HAPPEN!  I think I'll give them what they'll appreciate most by this time of year - a nice bottle of wine! lol  Blayd will be moving into his last year of middle school next year, Lachlann will be moving into his first year of middle school (the equivalent of moving from primary to high school- he is so excited about it all!), James will be moving to the last year of lower junior school (grade 3) and Caeligh will be in Prep, and that will be all my babies at school!  I don't know how I feel about that yet.  It's one of those milestones that takes a while to really think about and digest.  I no longer have babies or toddlers.  All my kids are school age children now.  Yeah, the whole "oh my crikey I'm getting old!!!" type thing. 
I've changed my hair back to what could be considered a "normal" colour, a dark brown with a slight violet tint.  As I stood in Woolies last week having a look at the home colour kits and thinking how boring they all were, James stood next to me and said, "They don't have your colour here Mum.  Anyway, I like your hair the way it is", which is sweet if my hair wasn't a fading red with some serious roots!!! lol  I said I was going to make it a normal colour for a change and he then replies, in total seriousness, "but that colour is your normal hair".  I had to laugh before explaining what my real colour is.  How odd for my little man that he didn't knowwhat my natural hair colour is because it's been so long since he's seen it! lol
Doug and I celebrated our first wedding anniversary on Tuesday with takeaway Thai and a bunch of yellow roses for me.  Thank you so much to beautiful Lusi who sent us an ecard from her and her lovely fam.  I will get around to ringing at some point!!!!
I haven't done a lot on the scrapping front, but the delightful Miss Jilly has inspired me to play with mixed media which I'm enjoying very much.  I've done a canvas that I like but it's not quite finished yet and it's so much fun to get out the oil pastels, the inks and paints and really let fly.  I'll be sure to share if I get around to doing any scrapping whatsoever!
That's my update, not very exciting and they're all starting to sound the same these days.  I hope there are more creative folks out there than me at the moment!
Have a good weekend and enjoy getting into the Christmas spirit (my favourite is bourbon!).
Cheers, Lu